Law, Governance and Technology Series
Vorschau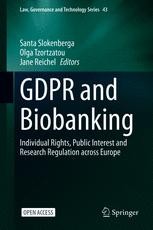 Open Access This content is freely available online to anyone, anywhere at any time.
GDPR and Biobanking
Individual Rights, Public Interest and Research Regulation across Europe
Herausgeber: Slokenberga, Santa, Tzortzatou, Olga, Reichel, Jane (Eds.)
Vorschau
Presents the most up-to-date overview of European data protection frameworks for biobank research
Offers a comprehensive and in-depth analysis of genetic data governance at the EU level
Shares valuable insights into national biobank regulatory frameworks
This book is open access, which means that you have free and unlimited access
Weitere Vorteile
Dieses Buch kaufen
eBook

ISBN 978-3-030-49388-2
Dieses Buch ist ein Open Access Buch und ist frei zugänglich auf link.springer.com

Hardcover 53,49 €

Preis für Deutschland (Brutto)

ISBN 978-3-030-49387-5
Kostenfreier Versand für Individualkunden weltweit
Institutionelle Kunden wenden sich bitte an ihren Kundenbetreuer
Gewöhnlich versandfertig in 3-5 Werktagen, sofern auf Lager
This open access book focuses on the discrepancies in biobank research regulations that are among the most significant hurdles to effective research collaboration. The General Data Protection Regulation (GDPR) has established stringent requirements for the processing of health and genetic data, while simultaneously allowing considerable multi-level exceptions for the purposes of scientific research. In addition to directly applicable exceptions, the GDPR places the regulatory responsibility for further defining how the Member States strike a balance between the individuals' rights and the public interest in research within their national legal orders. Since Member States' approaches to the trade-off between data subjects' rights on the one hand, and appropriate safeguards on the other, differ according to their ethical and legal traditions, their data protection requirements for research also differ considerably.

This study takes a comprehensive approach to determine how the GDPR affects regulatory regimes on the use of personal data in biobanking research, with a particular focus on the balance between individuals' rights, public interest and scientific research. In this regard, it has two main goals: first, to scrutinize the GDPR research regime, its objective and constitutive elements, the impact it has on biobanking, and its role in a changing EU landscape post-Brexit; and second, to examine how various exceptions have been operationalized nationally, and what challenges and opportunities this diversification entails. The book not only captures the complexity GDPR creates for biobanking, but also sheds light on various approaches to tackling the corresponding challenges. It offers the first comprehensive analysis of GDPR for biobanking, and the most up-to-date overview of the national biobank regulatory frameworks in Europe.

Santa Slokenberga holds a LL.D. in Medical Law and is a researcher at Uppsala University in Sweden. Her research focuses on legal issues genetics, with a particular emphasis on the protection of personal data. Her other research interests include regulating the standards of medical care and scientific uncertainty. In 2016, she defended her doctoral thesis entitled "European Legal Perspectives on Health-Related Direct-to-Consumer Genetic Testing". Since then, she has participated in two European research projects that relate to biobanking and data protection, B3Africa and SIENNA, carried out a postdoctoral research at Lund University in Sweden and has served as an ELSI expert at BBMRI-ERIC CS ELSI.

Olga Tzortzatou holds a LL.D. in Theory of Law on the protection of health data in the field of biomedical research from the National Kapodistrian University of Athens. As from 2008 she is an in house lawyer at the Biomedical Research Foundation of the Academy of Athens. She is also a member of the Bioethics Committee of BRFAA and an external ethics screener for the European Commission Research Executive Agency. Since 2015 she serves as an ELSI expert at BBMRI-ERIC CS ELSI.

Jane Reichel is a professor in Administrative Law at the Faculty of Law at Stockholm University and is since 2011 tied part-time to Center of Research Ethics & Bioethics at Uppsala University. She defended her thesis in European Administrative Law at Stockholm University in 2006. Between 2009 and 2018 she worked at the Faculty of Law in Uppsala University. She has participated in several European research projects on biobanking and data protection, for example BioBankCloud and B3Africa.
Inhaltsverzeichnis (23 Kapitel)

Setting the Foundations: Individual Rights, Public Interest, Scientific Research and Biobanking

Seiten 11-30

Striking a Balance Between Personalised Genetics and Privacy Protection from the Perspective of GDPR

Seiten 31-42

The Impact of the GDPR on the Governance of Biobank Research

Seiten 45-60

Biobank and Biomedical Research: Responsibilities of Controllers and Processors Under the EU General Data Protection Regulation

Seiten 61-89
Dieses Buch kaufen
eBook

ISBN 978-3-030-49388-2
Dieses Buch ist ein Open Access Buch und ist frei zugänglich auf link.springer.com

Hardcover 53,49 €

Preis für Deutschland (Brutto)

ISBN 978-3-030-49387-5
Kostenfreier Versand für Individualkunden weltweit
Institutionelle Kunden wenden sich bitte an ihren Kundenbetreuer
Gewöhnlich versandfertig in 3-5 Werktagen, sofern auf Lager
Services zu diesem Buch
Wir empfehlen
Bibliografische Information
Buchtitel

GDPR and Biobanking

Buchuntertitel

Individual Rights, Public Interest and Research Regulation across Europe

Herausgeber

Santa Slokenberga
Olga Tzortzatou
Jane Reichel

Titel der Buchreihe

Buchreihen Band

43

Copyright

2021

Verlag

Springer International Publishing

Copyright Inhaber

The Editor(s) (if applicable) and The Author(s)

eBook ISBN

978-3-030-49388-2

DOI

10.1007/978-3-030-49388-2

Hardcover ISBN

978-3-030-49387-5

Buchreihen ISSN

2352-1902

Auflage

1

Seitenzahl

VII, 434

Anzahl der Bilder

6 schwarz-weiß Abbildungen

Themen