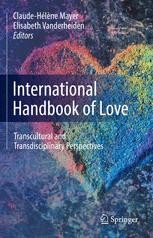 International Handbook of Love
Transcultural and Transdisciplinary Perspectives
Herausgeber: Mayer, Claude-Helene, Vanderheiden, Elisabeth (Eds.)
Provides New Interdisciplinary and Intercultural Insights on Love Across the World
Deals with Different Forms and Concepts of Love
Explores Love in the Context of New Technologies
Weitere Vorteile
Dieses Buch kaufen
eBook 234,33 €

Preis für Deutschland (Brutto)

Die eBook-Version des Titels ist in Kürze verfügbar
Erscheinungstermin: 22. September 2021
ISBN 978-3-030-45996-3
Versehen mit digitalem Wasserzeichen, DRM-frei
Erhältliche Formate:
eBooks sind auf allen Endgeräten nutzbar

Hardcover 299,59 €

Preis für Deutschland (Brutto)

Erscheinungstermin: 22. September 2021
ISBN 978-3-030-45995-6
Kostenfreier Versand für Individualkunden weltweit
Institutionelle Kunden wenden sich bitte an ihren Kundenbetreuer
This handbook presents an international state-of-the-art book on love in research and practice. It is anchored in classical, contemporary and postmodern perspectives and various disciplines. The book expands previous theoretical, empirical and applied research by presenting new transcultural and transdisciplinary approaches. The authors describe concepts and theories of love from cultural viewpoints with regard to manifestations of love in digital, social, cultural and political contexts. They also focus on love in the context of religion, belief systems, family and intergenerational relations, in the context of counselling, therapy and psychiatry. Additionally, authors explore love in the context of globalisation, in the literature, in workplace and business contexts and with regard to its dark side.

This volume is a must for scientists, researchers and practitioners interested in positive emotions, love, as well as cultural and international perspectives.

Claude-Hélène Mayer is a Full Professor in Industrial Psychology at the University of Johannesburg, in Johannesburg, South Africa, an Adjunct Professor at the European University Viadrina in Frankfurt, Germany and Senior Research Associate at Rhodes University,Grahamstown, South Africa. Her research areas are women in leadership, mental health and salutogenesis in cultural contexts, transcultural conflict management and mediation, shame and psychobiography. She uses positive psychology, system psychodynamic and cultural theory perspectives.
Elisabeth Vanderheiden is Managing Director of the Catholic Adult Education, Rhineland-Palatinate, Germany and the federal chairwoman of Catholic Adult Education, Germany. She has published articles and books in the context of vocational qualifications, in particular qualification of teachers and trainers, as well as current topics of general, vocational and civic education and intercultural opening processes.
Dieses Buch kaufen
eBook 234,33 €

Preis für Deutschland (Brutto)

Die eBook-Version des Titels ist in Kürze verfügbar
Erscheinungstermin: 22. September 2021
ISBN 978-3-030-45996-3
Versehen mit digitalem Wasserzeichen, DRM-frei
Erhältliche Formate:
eBooks sind auf allen Endgeräten nutzbar

Hardcover 299,59 €

Preis für Deutschland (Brutto)

Erscheinungstermin: 22. September 2021
ISBN 978-3-030-45995-6
Kostenfreier Versand für Individualkunden weltweit
Institutionelle Kunden wenden sich bitte an ihren Kundenbetreuer
Services zu diesem Buch
Wir empfehlen
Bibliografische Information
Buchtitel

International Handbook of Love

Buchuntertitel

Transcultural and Transdisciplinary Perspectives

Herausgeber

Claude-Helene Mayer
Elisabeth Vanderheiden

Copyright

2021

Verlag

Springer International Publishing

Copyright Inhaber

Springer Nature Switzerland AG

eBook ISBN

978-3-030-45996-3

DOI

10.1007/978-3-030-45996-3

Hardcover ISBN

978-3-030-45995-6

Auflage

1

Seitenzahl

XVII, 1147

Anzahl der Bilder

18 schwarz-weiß Abbildungen, 75 Abbildungen in Farbe

Themen