Advances in Analytics for Learning and Teaching
Vorschau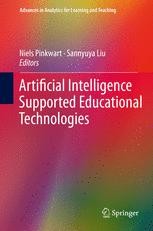 Artificial Intelligence Supported Educational Technologies
Herausgeber: Pinkwart, Niels, Liu, Sannyuya (Eds.)
Vorschau
Provides cross-cultural perspectives on artificial intelligence applications in education
Offers contributions by distinguished researchers from computer science and learning science
Provides an broad view on both systems/algorithms and educational aspects of current challenges in AI-supported educational technologies
Dieses Buch kaufen
eBook 106,99 €

Preis für Deutschland (Brutto)

ISBN 978-3-030-41099-5
Versehen mit digitalem Wasserzeichen, DRM-frei
Erhältliche Formate: PDF, EPUB
eBooks sind auf allen Endgeräten nutzbar
Sofortiger eBook Download nach Kauf

Hardcover 139,09 €

Preis für Deutschland (Brutto)

ISBN 978-3-030-41098-8
Kostenfreier Versand für Individualkunden weltweit
Institutionelle Kunden wenden sich bitte an ihren Kundenbetreuer
Gewöhnlich versandfertig in 3-5 Werktagen, sofern auf Lager

Softcover 96,29 €

Preis für Deutschland (Brutto)

ISBN 978-3-030-41101-5
Kostenfreier Versand für Individualkunden weltweit
Institutionelle Kunden wenden sich bitte an ihren Kundenbetreuer
Gewöhnlich versandfertig in 3-5 Werktagen, sofern auf Lager
This book includes a collection of expanded papers from the 2019 Sino-German Symposium on AI-supported educational technologies, which was held in Wuhan, China, March, 2019. The contributors are distinguished researchers from computer science and learning science.

The contributions are organized in four sections: (1) Overviews and systematic perspectives , (2) Example Systems, (3) Algorithms, and (4) Insights gained from empirical studies. For example, different data mining and machine learning methods to quantify different profiles of a learner in different learning situations (including interaction patterns, cognitive modes, knowledge skills, interests and emotions etc.) as well as connections to measurements in psychology and learning sciences are discussed in the chapters.

Niels Pinkwart has a background in Computer Science and Mathematics. He received his PhD from the University of Duisburg-Essen in 2005 with a dissertation on collaborative educational modeling systems. After a post-doctoral position at the Human-Computer Interaction Institute of Carnegie Mellon University, he accepted offers for Assistant Professor and Associate Professor positions at Clausthal University of Technology. In 2013, he moved to the Humboldt-Universität zu Berlin where he since heads the research group "Computer Science Education / Computer Science and Society", the ProMINT Kolleg and the Center of Technology Enhanced Learning located in the Professional School of Education of HU Berlin. In addition to his activities at HU Berlin, Prof. Pinkwart acts as Principal Investigator at the Einstein Center Digital Future and at the Weizenbaum Institute for the networked society (German Internet Institute), and holds a scientific director position at DFKI (German Research Center for Artificial Intelligence) since 2019. Within the German Computer Science Association, Prof. Pinkwart is currently co-chair of the working group on Learning Analytics and member of the steering committee of the section on Educational Technologies.

Sannyuya Liu has been a professor and the executive deputy director in National Engineering Research Center for E-learning (NERCEL), Central China Normal University (CCNU) since 2006. He received the Ph.D. degree in systems engineering from Huazhong University of Science and Technology (HUST), Wuhan, China, in 2003. His research interests include educational data mining, AI in education, ICT in education, educational technology, etc. To date, he has published more than 100 peer-reviewed articles, 7 books, and more than 30 national invention patents. He has also led many National Key R&D Projects of China on Personalized Learning and Intelligent Tutoring Technologies, e.g. he has been funded by National Natural Science Foundation of China on Group Behavior-Emotion-Cognition Modeling in Online Learning. He successfully led NERCEL R&D team in developing starC, a SPOC learning platform based dual-track teaching philosophy for supporting Informatization reform and teaching innovation in higher education. He was awarded with one First and one Secondary Prizes for Scientific and Technological Progress of Hubei Province respectively. Particularly, he proposed a systematic framework of Quantified Learning in a book named "Quantified Learning: Data-Driven Learning Behavior Analysis" published by Science Press of China, which has a significant impact on making the data-driven human learning mechanism research more accessible and promoting more applications of big data in education.
Inhaltsverzeichnis (16 Kapitel)

Open Learning Analytics: A Systematic Literature Review and Future Perspectives

Seiten 3-29

Non-distracting Feedback in Artificial Intelligence Supported Learning

Seiten 31-44

Research on Human-Computer Cooperative Teaching Supported by Artificial Intelligence Robot Assistant

Seiten 45-58

A New Conceptual Framework for Measuring Online Listening in Asynchronous Discussion Forums

Seiten 59-73

Self-Improvable, Self-Improving, and Self-Improvability Adaptive Instructional System

Seiten 77-91
Dieses Buch kaufen
eBook 106,99 €

Preis für Deutschland (Brutto)

ISBN 978-3-030-41099-5
Versehen mit digitalem Wasserzeichen, DRM-frei
Erhältliche Formate: PDF, EPUB
eBooks sind auf allen Endgeräten nutzbar
Sofortiger eBook Download nach Kauf

Hardcover 139,09 €

Preis für Deutschland (Brutto)

ISBN 978-3-030-41098-8
Kostenfreier Versand für Individualkunden weltweit
Institutionelle Kunden wenden sich bitte an ihren Kundenbetreuer
Gewöhnlich versandfertig in 3-5 Werktagen, sofern auf Lager

Softcover 96,29 €

Preis für Deutschland (Brutto)

ISBN 978-3-030-41101-5
Kostenfreier Versand für Individualkunden weltweit
Institutionelle Kunden wenden sich bitte an ihren Kundenbetreuer
Gewöhnlich versandfertig in 3-5 Werktagen, sofern auf Lager
Services zu diesem Buch
Wir empfehlen
Bibliografische Information
Buchtitel

Artificial Intelligence Supported Educational Technologies

Herausgeber

Niels Pinkwart
Sannyuya Liu

Titel der Buchreihe

Copyright

2020

Verlag

Springer International Publishing

Copyright Inhaber

Springer Nature Switzerland AG

eBook ISBN

978-3-030-41099-5

DOI

10.1007/978-3-030-41099-5

Hardcover ISBN

978-3-030-41098-8

Softcover ISBN

978-3-030-41101-5

Buchreihen ISSN

2662-2122

Auflage

1

Seitenzahl

X, 297

Anzahl der Bilder

25 schwarz-weiß Abbildungen, 46 Abbildungen in Farbe

Themen