Springer Series in Solid and Structural Mechanics
Vorschau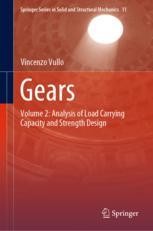 Gears
Volume 2: Analysis of Load Carrying Capacity and Strength Design
Autoren: Vullo, Vincenzo
Vorschau
Serves as the most advanced reference guide on the state of the art in gear engineering
Addresses topics from a theoretical standpoint, but without losing sight of the physical phenomena that characterize the various types of gears examined
Formulates the analytical and numerical solutions and is of interest not only to academics, but also to designers who deal with actual engineering problems concerning gears
Weitere Vorteile
Dieses Buch kaufen
eBook 50,28 €

Preis für Deutschland (Brutto)

ISBN 978-3-030-38632-0
Versehen mit digitalem Wasserzeichen, DRM-frei
Erhältliche Formate: PDF, EPUB
eBooks sind auf allen Endgeräten nutzbar
Sofortiger eBook Download nach Kauf

Hardcover 90,94 €

Preis für Deutschland (Brutto)

ISBN 978-3-030-38631-3
Kostenfreier Versand für Individualkunden weltweit
Institutionelle Kunden wenden sich bitte an ihren Kundenbetreuer
Gewöhnlich versandfertig in 3-5 Werktagen, sofern auf Lager

Softcover 64,19 €

Preis für Deutschland (Brutto)

ISBN 978-3-030-38634-4
Kostenfreier Versand für Individualkunden weltweit
Institutionelle Kunden wenden sich bitte an ihren Kundenbetreuer
Gewöhnlich versandfertig in 3-5 Werktagen, sofern auf Lager
This book explores the geometric and kinematic design of the various types of gears most commonly used in practical applications, also considering the problems concerning their cutting processes. The cylindrical spur and helical gears are first considered, determining their main geometric quantities in the light of interference and undercut problems, as well as the related kinematic parameters. Particular attention is paid to the profile shift of these types of gears either generated by rack-type cutter or by pinion-rack cutter. Among other things, profile-shifted toothing allows to obtain teeth shapes capable of greater strength and more balanced specific sliding, as well as to reduce the number of teeth below the minimum one to avoid the operating interference or undercut. These very important aspects of geometric-kinematic design of cylindrical spur and helical gears are then generalized and extended to the other examined types of gears most commonly used in practical applications, such as straight bevel gears; crossed helical gears; worm gears; spiral bevel and hypoid gears. Finally, ordinary gear trains, planetary gear trains and face gear drives are discussed.

This is the most advanced reference guide to the state of the art in gear engineering.

Topics are addressed from a theoretical standpoint, but in such a way as not to lose sight of the physical phenomena that characterize the various types of gears which are examined.

The analytical and numerical solutions are formulated so as to be of interest not only to academics, but also to designers who deal with actual engineering problems concerning the gears

Vincenzo Vullo was professor at University of Rome Tor Vergata, Italy, where he taught Mechanical Design. His main research areas include mechanical structures, analysis of rotors, plates and shells, advanced design in automotive and railway industry and finite element method of analysis. He is author of about 180 scientific papers and he is a member of a number of professional societies, including ASME and SAE.​
Inhaltsverzeichnis (11 Kapitel)

Load Carrying Capacity of Spur and Helical Gears: Influence Factors and Load Analysis

Seiten 1-72

Surface Durability (Pitting) of Spur and Helical Gears

Seiten 73-147

Tooth Bending Strength of Spur and Helical Gears

Seiten 149-202

Load Carrying Capacity of Bevel Gears: Factors Influencing Load Conditions

Seiten 203-245

Surface Durability (Pitting) of Bevel Gears

Seiten 247-278
Dieses Buch kaufen
eBook 50,28 €

Preis für Deutschland (Brutto)

ISBN 978-3-030-38632-0
Versehen mit digitalem Wasserzeichen, DRM-frei
Erhältliche Formate: PDF, EPUB
eBooks sind auf allen Endgeräten nutzbar
Sofortiger eBook Download nach Kauf

Hardcover 90,94 €

Preis für Deutschland (Brutto)

ISBN 978-3-030-38631-3
Kostenfreier Versand für Individualkunden weltweit
Institutionelle Kunden wenden sich bitte an ihren Kundenbetreuer
Gewöhnlich versandfertig in 3-5 Werktagen, sofern auf Lager

Softcover 64,19 €

Preis für Deutschland (Brutto)

ISBN 978-3-030-38634-4
Kostenfreier Versand für Individualkunden weltweit
Institutionelle Kunden wenden sich bitte an ihren Kundenbetreuer
Gewöhnlich versandfertig in 3-5 Werktagen, sofern auf Lager
Services zu diesem Buch
Bibliografische Information
Buchtitel

Gears

Buchuntertitel

Volume 2: Analysis of Load Carrying Capacity and Strength Design

Autoren

Titel der Buchreihe

Buchreihen Band

11

Copyright

2020

Verlag

Springer International Publishing

Copyright Inhaber

Springer Nature Switzerland AG

eBook ISBN

978-3-030-38632-0

DOI

10.1007/978-3-030-38632-0

Hardcover ISBN

978-3-030-38631-3

Softcover ISBN

978-3-030-38634-4

Buchreihen ISSN

2195-3511

Auflage

1

Seitenzahl

LXXVII, 623

Anzahl der Bilder

196 schwarz-weiß Abbildungen

Themen