Structural Integrity
Vorschau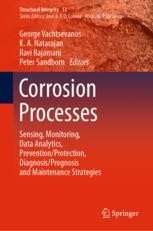 Corrosion Processes
Sensing, Monitoring, Data Analytics, Prevention/Protection, Diagnosis/Prognosis and Maintenance Strategies
Herausgeber: Vachtsevanos, G., Natarajan, K.A., Rajamani, R., Sandborn, P. (Eds.)
Vorschau
Covers the entire spectrum of corrosion processes, from sensing and data/image mining to corrosion modeling, corrosion detection and prediction, mitigation strategies and return on investment
Describes the electrochemistry of corrosion processes
Serves as a valuable reference resource for scientists, engineers, academics and industry practitioners in the important field of corrosion
Weitere Vorteile
Dieses Buch kaufen
eBook 85,59 €

Preis für Deutschland (Brutto)

ISBN 978-3-030-32831-3
Versehen mit digitalem Wasserzeichen, DRM-frei
Erhältliche Formate: PDF, EPUB
eBooks sind auf allen Endgeräten nutzbar
Sofortiger eBook Download nach Kauf

Hardcover 139,09 €

Preis für Deutschland (Brutto)

ISBN 978-3-030-32830-6
Kostenfreier Versand für Individualkunden weltweit
Institutionelle Kunden wenden sich bitte an ihren Kundenbetreuer
Gewöhnlich versandfertig in 3-5 Werktagen, sofern auf Lager

Softcover 106,99 €

Preis für Deutschland (Brutto)

ISBN 978-3-030-32833-7
Kostenfreier Versand für Individualkunden weltweit
Institutionelle Kunden wenden sich bitte an ihren Kundenbetreuer
Gewöhnlich versandfertig in 3-5 Werktagen, sofern auf Lager
This book discusses relevant topics in field of corrosion, from sensing strategies to modeling of control processes, corrosion prevention, detection of corrosion initiation, prediction of corrosion growth and evolution, to maintenance practices and return on investment.Written by leading international experts, it combines mathematical and scientific rigor with multiple case studies, examples, colorful images, case studies and numerous references exploring the essentials of corrosion in depth. It appeals to a wide readership, including corrosion engineers, managers, students and industrial and government staff, and can serve as a reference text for courses in materials, mechanical and aerospace engineering, as well as anyone working on corrosion processes.

Dr. George Vachtsevanos is currently serving as Professor Emeritus at the Georgia Institute of Technology, Atlanta, Georgia, USA. Dr. Vachtsevanos directs at Georgia Tech the Intelligent Control Systems laboratory where faculty and students are conducting interdisciplinary research in intelligent control, fault diagnosis and failure prognosis and resilient design and operation of complex systems and hierarchical/intelligent control of Unmanned Aerial Vehicles. His research has been funded over the years by government and industry. He has published over 350 technical papers and is the co-inventor of 13 U.S. patents. He is the lead author of a book on Intelligent Fault Diagnosis and Prognosis for Engineering Systems published by Wiley in 2006.
Dr. K.A. Natarajan is presently Emeritus Professor and NASI Honorary Scientist at the Department of Materials Engineering, Indian Institute of Science, Bangalore, India. He did his M.S. and Ph.D degrees specialising in Mineral beneficiation and Hydrometallurgy from the University of Minnesota, USA. The Indian Institute of Science, Bangalore conferred on him the degree of Doctor of Science in 1992 for his pioneering research contributions in Minerals bioprocessing. He is a Fellow of several academies such as the Indian Academy of Sciences, Indian National Academy of Engineering and the National Academy of Sciences. He has received several medals and awards such as the National Metallurgist Award by the Ministry of Mines, Govt. of India and National Mineral award by the Ministry of Mines. Govt. of India, Alumni Award of Excellence in Engineering Research by the Indian Institute of Science, Bangalore, Kamani Gold medal of the Indian Institute of Metals and the Hindustan Zinc Gold Medal. He has also been honored with the presentation of Biotech Product and Process Development & Commercialisation Award 2003, Dept. of Biotechnology, Govt. of India. He has also been conferred with the National Metallurgist Award for the year 2006 from the Ministry of Steel, Govt. of India for his outstanding contributions in the field of mineral processing and hydrometallurgy for enrichment of ores, extraction of valuable metals, deto xification of mine and metallurgical plant effluents. In 2016, he was awarded the NIGIS Life time Achievement Award For Teaching and Research in CORROSION ENGINEERING by the NACE.


He is on the Editorial board of several international journals in the area of Mineral processing. His areas of research include Mineral processing, Hydrometallurgy, Minerals bioprocessing, Corrosion engineering and Environmental control. He has published over 300 research papers in leading international journals in the above areas. He was the Chairman of the Department of Metallurgy, Indian Institute of Science, and Bangalore during the period 1999-2004.

Dr. Ravi Rajamani is an independent consultant, working in the aerospace and energy sectors, specifically on controls, diagnostics, and prognostics. He is the author of three books, many book chapters, journal and conference papers, and has several patents to his name. In the past, Ravi worked at Meggitt, United Technologies Corporation, and the General Electric Company. He has been elected a fellow of SAE International and of IMechE, in the UK and he currently serves as the Editor in Chief of the SAE International Aerospace Journal. In addition, he has research and visiting appointments at University of Connecticut and Cranfield University.

Peter Sandborn is a Professor in the CALCE Electronic Products and Systems Center and the Director of the Maryland Technology Enterprise Institute at the University of Maryland. Dr. Sandborn's group develops life-cycle cost models and business case support for long field life systems. This work includes: obsolescence forecasting algorithms, strategic design refresh planning, lifetime buy quantity optimization, and return on investment models for maintenance planning (including the application of PHM to systems). Dr. Sandborn is the developer of the MOCA refresh planning tool. He is the author of over 200 technical publications and several books on electronic packaging and electronic systems cost analysis and was the winner of the 2004 SOLE Proceedings, 2006 Eugene L. Grant, 2017 ASME Kos Ishii-Toshiba Award, and the 2018 Jacques S. Gansler Excellence in Sustainment Sciences awards. He is a Fellow of the IEEE, ASME, and the PHM Society.
Inhaltsverzeichnis (8 Kapitel)

Principles of Corrosion Processes

Seiten 27-82

Corrosion Sensing

Seiten 83-104

Corrosion Prevention

Seiten 105-117

Data Analytics for Corrosion Assessment

Seiten 119-161
Dieses Buch kaufen
eBook 85,59 €

Preis für Deutschland (Brutto)

ISBN 978-3-030-32831-3
Versehen mit digitalem Wasserzeichen, DRM-frei
Erhältliche Formate: PDF, EPUB
eBooks sind auf allen Endgeräten nutzbar
Sofortiger eBook Download nach Kauf

Hardcover 139,09 €

Preis für Deutschland (Brutto)

ISBN 978-3-030-32830-6
Kostenfreier Versand für Individualkunden weltweit
Institutionelle Kunden wenden sich bitte an ihren Kundenbetreuer
Gewöhnlich versandfertig in 3-5 Werktagen, sofern auf Lager

Softcover 106,99 €

Preis für Deutschland (Brutto)

ISBN 978-3-030-32833-7
Kostenfreier Versand für Individualkunden weltweit
Institutionelle Kunden wenden sich bitte an ihren Kundenbetreuer
Gewöhnlich versandfertig in 3-5 Werktagen, sofern auf Lager
Services zu diesem Buch
Bibliografische Information
Buchtitel

Corrosion Processes

Buchuntertitel

Sensing, Monitoring, Data Analytics, Prevention/Protection, Diagnosis/Prognosis and Maintenance Strategies

Herausgeber

George Vachtsevanos
K. A. Natarajan
Ravi Rajamani
Peter Sandborn

Titel der Buchreihe

Buchreihen Band

13

Copyright

2020

Verlag

Springer International Publishing

Copyright Inhaber

Springer Nature Switzerland AG

eBook ISBN

978-3-030-32831-3

DOI

10.1007/978-3-030-32831-3

Hardcover ISBN

978-3-030-32830-6

Softcover ISBN

978-3-030-32833-7

Buchreihen ISSN

2522-560X

Auflage

1

Seitenzahl

VII, 339

Anzahl der Bilder

78 schwarz-weiß Abbildungen, 188 Abbildungen in Farbe

Themen