Mathematical Biosciences Subseries
Vorschau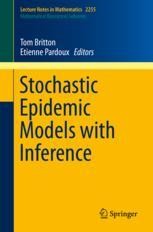 Stochastic Epidemic Models with Inference
Herausgeber: Britton, Tom, Pardoux, Etienne (Eds.)
Vorschau
Most detailed and broad treatment of stochastic epidemic models ever published in one volume
Covers both classical and new results and methods, from mathematical models to statistical procedures
Aimed at PhD students and Post Docs in mathematical sciences
Includes numerous Examples and Exercises (some with solutions)
Weitere Vorteile
Dieses Buch kaufen
eBook 21,39 €

42,79 € (Listenpreis)

Preis für Deutschland (Brutto)

gültig bis 30. Juni 2021

ISBN 978-3-030-30900-8
Versehen mit digitalem Wasserzeichen, DRM-frei
Erhältliche Formate: PDF
eBooks sind auf allen Endgeräten nutzbar
Sofortiger eBook Download nach Kauf

Softcover 26,74 €

53,49 € (Listenpreis)

Preis für Deutschland (Brutto)

gültig bis 30. Juni 2021

ISBN 978-3-030-30899-5
Kostenfreier Versand für Individualkunden weltweit
Institutionelle Kunden wenden sich bitte an ihren Kundenbetreuer
Gewöhnlich versandfertig in 3-5 Werktagen, sofern auf Lager
Focussing on stochastic models for the spread of infectious diseases in a human population, this book is the outcome of a two-week ICPAM/CIMPA school on "Stochastic models of epidemics" which took place in Ziguinchor, Senegal, December 5–16, 2015. The text is divided into four parts, each based on one of the courses given at the school: homogeneous models (Tom Britton and Etienne Pardoux), two-level mixing models (David Sirl and Frank Ball), epidemics on graphs (Viet Chi Tran), and statistics for epidemic models (Catherine Larédo).

The CIMPA school was aimed at PhD students and Post Docs in the mathematical sciences. Parts (or all) of this book can be used as the basis for traditional or individual reading courses on the topic. For this reason, examples and exercises (some with solutions) are provided throughout.

Tom Britton is professor at the Department of Mathematics at Stockholm University. His research focuses on stochastic modelling, and inference procedures, for biological and medical problems, in particular models for the spread of infectious diseases, networks and phylogenetics. He is the author of more than 100 publications, and two monographs about models and analysis of infectious disease spreading.

Etienne Pardoux is professor emeritus at the Institut de Mathématiques de Marseille, within Aix Marseille Univ. His research has covered several topics of stochastic analysis, in particular stochastic partial differential equations, backward stochastic differential equations and homogenization. More recently, he has turned his interests towards evolutionary biology and modeling of infectious diseases. He is the author of more than 160 publications, including four books.
Inhaltsverzeichnis (15 Kapitel)

Chapter 1 Stochastic Epidemic Models

Seiten 5-19

Chapter 2 Markov Models

Seiten 21-41

Chapter 3 General Closed Models

Seiten 43-57

Chapter 4 Open Markov Models

Seiten 59-95

Chapter 1 Single Population Epidemics

Seiten 125-141
Dieses Buch kaufen
eBook 21,39 €

42,79 € (Listenpreis)

Preis für Deutschland (Brutto)

gültig bis 30. Juni 2021

ISBN 978-3-030-30900-8
Versehen mit digitalem Wasserzeichen, DRM-frei
Erhältliche Formate: PDF
eBooks sind auf allen Endgeräten nutzbar
Sofortiger eBook Download nach Kauf

Softcover 26,74 €

53,49 € (Listenpreis)

Preis für Deutschland (Brutto)

gültig bis 30. Juni 2021

ISBN 978-3-030-30899-5
Kostenfreier Versand für Individualkunden weltweit
Institutionelle Kunden wenden sich bitte an ihren Kundenbetreuer
Gewöhnlich versandfertig in 3-5 Werktagen, sofern auf Lager
Services zu diesem Buch
Wir empfehlen
Bibliografische Information
Buchtitel

Stochastic Epidemic Models with Inference

Herausgeber

Tom Britton
Etienne Pardoux

Titel der Buchreihe

Buchreihen Band

2255

Copyright

2019

Verlag

Springer International Publishing

Copyright Inhaber

Springer Nature Switzerland AG

eBook ISBN

978-3-030-30900-8

DOI

10.1007/978-3-030-30900-8

Softcover ISBN

978-3-030-30899-5

Buchreihen ISSN

2524-6771

Auflage

1

Seitenzahl

XVIII, 474

Anzahl der Bilder

11 schwarz-weiß Abbildungen, 17 Abbildungen in Farbe

Themen