Trends in Logic
Vorschau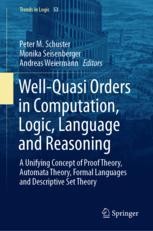 Well-Quasi Orders in Computation, Logic, Language and Reasoning
A Unifying Concept of Proof Theory, Automata Theory, Formal Languages and Descriptive Set Theory
Herausgeber: Schuster, Peter M., Seisenberger, Monika, Weiermann, Andreas (Eds.)
Vorschau
Introduces readers to a highly active branch of combinatorics
Unifies interdisciplinary areas between logic, mathematics and computer science
Highlights relevant work by top scholars from various fields
Weitere Vorteile
Dieses Buch kaufen
eBook 117,69 €

Preis für Deutschland (Brutto)

ISBN 978-3-030-30229-0
Versehen mit digitalem Wasserzeichen, DRM-frei
Erhältliche Formate: EPUB, PDF
eBooks sind auf allen Endgeräten nutzbar
Sofortiger eBook Download nach Kauf

Hardcover 160,49 €

Preis für Deutschland (Brutto)

ISBN 978-3-030-30228-3
Kostenfreier Versand für Individualkunden weltweit
Institutionelle Kunden wenden sich bitte an ihren Kundenbetreuer
Gewöhnlich versandfertig in 3-5 Werktagen, sofern auf Lager

Softcover 117,69 €

Preis für Deutschland (Brutto)

Erscheinungstermin: 17. Januar 2021
ISBN 978-3-030-30231-3
Kostenfreier Versand für Individualkunden weltweit
Institutionelle Kunden wenden sich bitte an ihren Kundenbetreuer
This book bridges the gaps between logic, mathematics and computer science by delving into the theory of well-quasi orders, also known as wqos. This highly active branch of combinatorics is deeply rooted in and between many fields of mathematics and logic, including proof theory, commutative algebra, braid groups, graph theory, analytic combinatorics, theory of relations, reverse mathematics and subrecursive hierarchies. As a unifying concept for slick finiteness or termination proofs, wqos have been rediscovered in diverse contexts, and proven to be extremely useful in computer science.

The book introduces readers to the many facets of, and recent developments in, wqos through chapters contributed by scholars from various fields. As such, it offers a valuable asset for logicians, mathematicians and computer scientists, as well as scholars and students.


Peter Schuster is an Associate Professor of Mathematical Logic at the University of Verona. After completing both his doctorate and habilitation in mathematics at the University of Munich, he was a Lecturer at the University of Leeds and member of the Leeds Logic Group. Apart from constructive mathematics in general, his principal research interests are in the computational content of classical proofs in abstract algebra and related fields, in which maximum or minimum principles are invoked.
Monika Seisenberger is an Associate Professor of Computer Science at Swansea University. After completing a PhD in the Graduate Programme "Logic in Computer Science" at the LMU Munich she took up a position as research assistant at Swansea University, where she was subsequently appointed lecturer and later programme director. Her research focuses on logic, and on theorem proving and verification.
Andreas Weiermann is a Full Professor of Mathematics at Ghent University. After completing both his doctorate and habilitation in mathematics at the University of Münster, he held postdoctoral positions in Münster and Utrecht and became first an Associate Professor and later Full Professor in Ghent. His research interests include proof theory, theoretical computer science and discrete mathematics.

Inhaltsverzeichnis (13 Kapitel)

Well, Better and In-Between

Seiten 1-27

On Ordinal Invariants in Well Quasi Orders and Finite Antichain Orders

Seiten 29-54

The Ideal Approach to Computing Closed Subsets in Well-Quasi-orderings

Seiten 55-105

Strong WQO Tree Theorems

Seiten 107-125

Well Quasi-orderings and Roots of Polynomials in a Hahn Field

Seiten 127-144
Dieses Buch kaufen
eBook 117,69 €

Preis für Deutschland (Brutto)

ISBN 978-3-030-30229-0
Versehen mit digitalem Wasserzeichen, DRM-frei
Erhältliche Formate: EPUB, PDF
eBooks sind auf allen Endgeräten nutzbar
Sofortiger eBook Download nach Kauf

Hardcover 160,49 €

Preis für Deutschland (Brutto)

ISBN 978-3-030-30228-3
Kostenfreier Versand für Individualkunden weltweit
Institutionelle Kunden wenden sich bitte an ihren Kundenbetreuer
Gewöhnlich versandfertig in 3-5 Werktagen, sofern auf Lager

Softcover 117,69 €

Preis für Deutschland (Brutto)

Erscheinungstermin: 17. Januar 2021
ISBN 978-3-030-30231-3
Kostenfreier Versand für Individualkunden weltweit
Institutionelle Kunden wenden sich bitte an ihren Kundenbetreuer
Services zu diesem Buch
Wir empfehlen
Bibliografische Information
Buchtitel

Well-Quasi Orders in Computation, Logic, Language and Reasoning

Buchuntertitel

A Unifying Concept of Proof Theory, Automata Theory, Formal Languages and Descriptive Set Theory

Herausgeber

Peter M. Schuster
Monika Seisenberger
Andreas Weiermann

Titel der Buchreihe

Buchreihen Band

53

Copyright

2020

Verlag

Springer International Publishing

Copyright Inhaber

Springer Nature Switzerland AG

eBook ISBN

978-3-030-30229-0

DOI

10.1007/978-3-030-30229-0

Hardcover ISBN

978-3-030-30228-3

Softcover ISBN

978-3-030-30231-3

Buchreihen ISSN

1572-6126

Auflage

1

Seitenzahl

X, 391

Anzahl der Bilder

99 schwarz-weiß Abbildungen, 4 Abbildungen in Farbe

Themen