Nonprofit and Civil Society Studies
Vorschau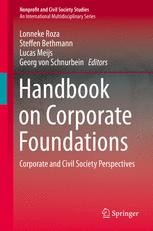 Handbook on Corporate Foundations
Corporate and Civil Society Perspectives
Herausgeber: Roza, L., Bethmann, S., Meijs, L., von Schnurbein, G. (Eds.)
Vorschau
Offers insights from disciplines such as business, management, philanthropy, civil society and sociology
Looks further into the organizational processes of corporate foundations, governance, operations, and analyzes impact of major aspects of organizational performanceTaps into a growing interest in developing a typology of foundations such as family foundations, community foundations, PtP-foundations and Corporate Foundations
Alle Vorteile anzeigen
Dieses Buch kaufen
eBook 85,59 €

Preis für Deutschland (Brutto)

ISBN 978-3-030-25759-0
Versehen mit digitalem Wasserzeichen, DRM-frei
Erhältliche Formate: PDF, EPUB
eBooks sind auf allen Endgeräten nutzbar
Sofortiger eBook Download nach Kauf

Hardcover 149,79 €

Preis für Deutschland (Brutto)

ISBN 978-3-030-25758-3
Kostenfreier Versand für Individualkunden weltweit
Institutionelle Kunden wenden sich bitte an ihren Kundenbetreuer
Gewöhnlich versandfertig in 3-5 Werktagen, sofern auf Lager

Softcover 106,99 €

Preis für Deutschland (Brutto)

ISBN 978-3-030-25761-3
Kostenfreier Versand für Individualkunden weltweit
Institutionelle Kunden wenden sich bitte an ihren Kundenbetreuer
Gewöhnlich versandfertig in 3-5 Werktagen, sofern auf Lager
Companies increasingly play a meaningful role in civil society and the philanthropic sector through Corporate Social Responsibility (CSR) and Corporate Philanthropy (CP). The most well studied form of allocating these resources is through outright contributions to operating external foundations and other nonprofit organizations. However, far less is known about the use of corporate foundations, separate and independent nonprofit entities aimed at channeling corporate giving to a social mission related to a company.

Corporate foundations are often linked to the founding company through their name, funding, trustees, administration and potential employee involvement. As these foundations are growing in number, size and importance and becoming increasingly visible in the philanthropic sector, the urgency to understand their role and functioning becomes more important.

The primary aim of this volume is to deliver a holistic analysis of the current state-of-the-art on corporate foundations. For that reason, the book includes different perspectives on and use a hybrid concept of corporate foundations. The book includes three main parts. First, looking further into the organizational processes of corporate foundations, the book analyzes governance and operations as major aspects of organizational performance. Second, it sheds light on the role of corporate foundations in various institutional settings. Lastly, the book includes various stakeholder perspectives on corporate foundations, including corporate employees, beneficiaries, and their non-profit partners.

By reading the book, readers will build a comprehensive understanding of the role and functioning of corporate foundations, understand new avenues for research and, in case they are practitioners in the field, find practical advice rooted in academic research.

​

​Lonneke Roza is Post Doctoral Researcher & Lecturer at Rotterdam School of Management, Erasmus University. Her research focusses on (microfoundations of) Corporate Philanthropy/Corporate Citizenship. Her work is published in among others Journal of Business Ethics, Nonprofit and Voluntary Sector Quarterly and Voluntas.
Steffen Bethmann (Phd University Heidelberg) is a Research Fellow of the Center for Philanthropy Studies of the University of Basel. He is also an organizational consultant and associated researcher of the Centro de Filantropía y Inversiones Sociales of the University Adolfo Ibañez in Santiago Chile. His area of expertise lay especially in strategies and governance of foundations as well as in the field of social innovation.
Lucas Meijs is professor of Strategic Philanthropy and Volunteering at Rotterdam School of Management (RSM), Erasmus University Rotterdam (Netherlands). His current research focuses on strategic philanthropy, volunteer/nonprofit management, corporate community involvement, and involved learning. He served two terms as first non-american co-editor in chief of Nonprofit and Voluntary Action Quarterly and was a member of the Raad voor Maatschappelijke Ontwikkeling – the official policy advisory body for the Dutch government and parliament.

Georg von Schnurbein is associate professor for foundation management at the Faculty of Business and Economics and founding director of the Center for Philanthropy Studies (CEPS) at the University of Basel. He serves in several functions in boards in the field of international research on philanthropy and has co-authored the latest edition of the Swiss Foundation Code and published in several impact journals such as Nonprofit & Voluntary Sector Quarterly and European Management Journal. His research interest is on nonprofit governance, financial health of nonprofits, and impact measurement.
Inhaltsverzeichnis (16 Kapitel)

Challenges in Corporate Foundation Governance

Seiten 17-37

Strategic in What Sense? Corporate Foundation Models in Terms of Their Institutional Independence and Closeness to Core Business

Seiten 39-61

Families, Firms, and Philanthropy: Shareholder Foundation Responses to Competing Goals

Seiten 63-82

Corporate Foundations in Europe

Seiten 85-106
Dieses Buch kaufen
eBook 85,59 €

Preis für Deutschland (Brutto)

ISBN 978-3-030-25759-0
Versehen mit digitalem Wasserzeichen, DRM-frei
Erhältliche Formate: PDF, EPUB
eBooks sind auf allen Endgeräten nutzbar
Sofortiger eBook Download nach Kauf

Hardcover 149,79 €

Preis für Deutschland (Brutto)

ISBN 978-3-030-25758-3
Kostenfreier Versand für Individualkunden weltweit
Institutionelle Kunden wenden sich bitte an ihren Kundenbetreuer
Gewöhnlich versandfertig in 3-5 Werktagen, sofern auf Lager

Softcover 106,99 €

Preis für Deutschland (Brutto)

ISBN 978-3-030-25761-3
Kostenfreier Versand für Individualkunden weltweit
Institutionelle Kunden wenden sich bitte an ihren Kundenbetreuer
Gewöhnlich versandfertig in 3-5 Werktagen, sofern auf Lager
Services zu diesem Buch
Wir empfehlen
Bibliografische Information
Buchtitel

Handbook on Corporate Foundations

Buchuntertitel

Corporate and Civil Society Perspectives

Herausgeber

Lonneke Roza
Steffen Bethmann
Lucas Meijs
Georg von Schnurbein

Titel der Buchreihe

Copyright

2020

Verlag

Springer International Publishing

Copyright Inhaber

Springer Nature Switzerland AG

eBook ISBN

978-3-030-25759-0

DOI

10.1007/978-3-030-25759-0

Hardcover ISBN

978-3-030-25758-3

Softcover ISBN

978-3-030-25761-3

Buchreihen ISSN

1568-2579

Auflage

1

Seitenzahl

XII, 303

Anzahl der Bilder

5 schwarz-weiß Abbildungen, 4 Abbildungen in Farbe

Themen