Future of Business and Finance
Vorschau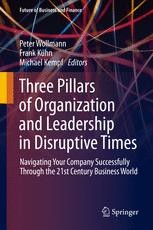 Three Pillars of Organization and Leadership in Disruptive Times
Navigating Your Company Successfully Through the 21st Century Business World
Herausgeber: Wollmann, Peter, Kühn, Frank, Kempf, Michael (Eds.)
Vorschau
Explains and applies the three core pillars of organization and leadership using practical cases and scenarios
Offers practical takeaways on designing and orchestrating organizations with transformations and interventions for disruptive times
Presents ample background information, fresh thinking and experiences from an international multi-professional author team
Weitere Vorteile
Dieses Buch kaufen
eBook 53,49 €

Preis für Deutschland (Brutto)

ISBN 978-3-030-23227-6
Versehen mit digitalem Wasserzeichen, DRM-frei
Erhältliche Formate: EPUB, PDF
eBooks sind auf allen Endgeräten nutzbar
Sofortiger eBook Download nach Kauf

Hardcover 69,54 €

Preis für Deutschland (Brutto)

ISBN 978-3-030-23226-9
Kostenfreier Versand für Individualkunden weltweit
Institutionelle Kunden wenden sich bitte an ihren Kundenbetreuer
Gewöhnlich versandfertig in 3-5 Werktagen, sofern auf Lager

Softcover 53,49 €

Preis für Deutschland (Brutto)

ISBN 978-3-030-23229-0
Kostenfreier Versand für Individualkunden weltweit
Institutionelle Kunden wenden sich bitte an ihren Kundenbetreuer
Gewöhnlich versandfertig in 3-5 Werktagen, sofern auf Lager
This book, written by an interdisciplinary team of authors, explores the transformation of organizations in today's volatile, uncertain, and ambiguous (VUCA) world. It demonstrates the need to manage organizations in a dynamic way, and to revisit and in some cases reinvent working and leadership styles that seemed appropriate during past decades and centuries. In turn, the book puts forward a model based on three distinct pillars of organization and leadership to suit disruptive times: the concepts of 'Sustainable Purpose', 'Travelling Organization', and 'Connecting Resources'. These pillars challenge many of our traditional organizational patterns and meet the need for effective transformative approaches.

Peter Wollmann has been acting as program director for global transformations within Zurich Insurance Company (ZIC) and as a senior mentor, sparring partner, and catalyst for leaders in new roles and responsibilities and for organizations. His experience bases on a broad career over 38 years in diverse project/program roles at a global scale, or line management roles like leading Project Portfolio Management, Strategic Business Development and Strategic Planning & Controlling units in ZIC, Deutsche Bank Insurance Group and Deutscher Herold. Peter has a degree in mathematics and physics from the University of Bonn (Germany). He is author and publisher of diverse books and articles around strategy, leadership and project and project portfolio management. He additionally founded and leads a wine business start-up named VinAuthority.
Frank Kühn has been facilitating projects on transformation, organization and leadership for over 25 years. His work connects experience, future thinking, and getting into rapid action with the people. His latest project involved building a Business Unit 4.0, transition of a bank towards agile working, customer-centered re-organization of an HR unit, and development of rapid product development processes. Frank graduated in engineering and received his doctorate in work science. After leadership experience in research and industry, he was a partner at HLP in Frankfurt (Germany) and ICG Integrated Consulting Group in Berlin (Germany) and Graz (Austria). Currently, he is a self-employed consultant, business partner of ICG and associated with further development and project partners.
Michael U. Kempf has been an experienced management consultant for over 20 years. The driving force of his professional activities is his strong ambition to design processes and organizations in a sustainable manner. It is a particular pleasure for him to identify key challenges, to diagnose complex relationships and to assist in shaping the future. Gaining experience and learning something new are indispensable parts of his life, that is why he likes to seize new chances: on his way from carpentry to studies in social work, education and business administration, in various jobs in social work; during 10 years as manager (HR and logistics) in industrial and retail companies and since 1998 in consulting people, leadership teams as well as working teams and organizations that are all very different. Michael has co-authored several publications in the field of leadership and organizational development.

Inhaltsverzeichnis (25 Kapitel)

Why and How the Three-Pillar Model Has Become a Reality

Seiten 3-4

Disruptive Times and Need for Action

Seiten 5-10

Three Pillars of Organization and Leadership

Seiten 11-13

Model Testing via a Case Study

Seiten 15-21

Practice Clusters of This Book

Seiten 23-24
Dieses Buch kaufen
eBook 53,49 €

Preis für Deutschland (Brutto)

ISBN 978-3-030-23227-6
Versehen mit digitalem Wasserzeichen, DRM-frei
Erhältliche Formate: EPUB, PDF
eBooks sind auf allen Endgeräten nutzbar
Sofortiger eBook Download nach Kauf

Hardcover 69,54 €

Preis für Deutschland (Brutto)

ISBN 978-3-030-23226-9
Kostenfreier Versand für Individualkunden weltweit
Institutionelle Kunden wenden sich bitte an ihren Kundenbetreuer
Gewöhnlich versandfertig in 3-5 Werktagen, sofern auf Lager

Softcover 53,49 €

Preis für Deutschland (Brutto)

ISBN 978-3-030-23229-0
Kostenfreier Versand für Individualkunden weltweit
Institutionelle Kunden wenden sich bitte an ihren Kundenbetreuer
Gewöhnlich versandfertig in 3-5 Werktagen, sofern auf Lager
Services zu diesem Buch
Wir empfehlen
Bibliografische Information
Buchtitel

Three Pillars of Organization and Leadership in Disruptive Times

Buchuntertitel

Navigating Your Company Successfully Through the 21st Century Business World

Herausgeber

Peter Wollmann
Frank Kühn
Michael Kempf

Titel der Buchreihe

Copyright

2020

Verlag

Springer International Publishing

Copyright Inhaber

Springer Nature Switzerland AG

eBook ISBN

978-3-030-23227-6

DOI

10.1007/978-3-030-23227-6

Hardcover ISBN

978-3-030-23226-9

Softcover ISBN

978-3-030-23229-0

Buchreihen ISSN

2662-2467

Auflage

1

Seitenzahl

XVI, 264

Anzahl der Bilder

57 schwarz-weiß Abbildungen

Themen