Managing Forest Ecosystems
Vorschau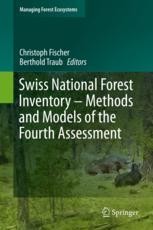 Swiss National Forest Inventory – Methods and Models of the Fourth Assessment
Herausgeber: Fischer, Christoph, Traub, Berthold (Eds.)
Vorschau
Comprises detailed description of all facets of a National Forest Inventory, ranging from organizational and methodological aspects to technical details of sampling designs and statistical results analyses
Presents prognosis models and wall to wall spatial products such as the vegetation height model
Shows the whole automatized workflow from raw data acquisition to statistical estimation and results presentation
Explains data warehousing concepts and architecture, and discusses appropriate concepts of result dissemination via web-based tools.
Describes quality assurance and control measures applied to the terrestrial field surveys and aerial photo interpretation in detail
The presented methods are applicable to any sample based forest inventory around the globe
Weitere Vorteile
Dieses Buch kaufen
eBook 96,29 €

Preis für Deutschland (Brutto)

ISBN 978-3-030-19293-8
Versehen mit digitalem Wasserzeichen, DRM-frei
Erhältliche Formate: PDF, EPUB
eBooks sind auf allen Endgeräten nutzbar
Sofortiger eBook Download nach Kauf

Hardcover 171,19 €

Preis für Deutschland (Brutto)

ISBN 978-3-030-19292-1
Kostenfreier Versand für Individualkunden weltweit
Institutionelle Kunden wenden sich bitte an ihren Kundenbetreuer
Gewöhnlich versandfertig in 3-5 Werktagen, sofern auf Lager

Softcover 123,04 €

Preis für Deutschland (Brutto)

ISBN 978-3-030-19295-2
Kostenfreier Versand für Individualkunden weltweit
Institutionelle Kunden wenden sich bitte an ihren Kundenbetreuer
Gewöhnlich versandfertig in 3-5 Werktagen, sofern auf Lager
The Swiss National Forest Inventory (NFI) is a forest survey on national level which started in 1982 and has already reached its 5th survey cycle (NFI5). It can be characterized as a multisource and multipurpose inventory where information is mainly collected from terrestrial field surveys using permanent sample plots. In addition, data from aerial photography, GIS and forest service questionnaires are also included.

The NFI's main objective is to provide statistically reliable and sound figures to stakeholders such as politicians, researchers, ecologists, forest service, timber industry, national and international organizations as well as to international projects such as the Forest Resources Assessment of the United Nations. For Switzerland, NFI results are typically reported on national and regional level.

State of the art methods are applied in all fields of data collection which have been proven to be of international interest and have even served as a basis for other European NFIs. The presented methods are applicable to any sample based forest inventory around the globe.

In 2001 the Swiss NFI published its methods for the first time. Since then, many methodological changes and improvements have been introduced.

This book describes the complete set of methods and revisions since NFI2. It covers various topics ranging from inventory design and statistics to remote sensing, field survey methods and modelling. It also describes data quality concepts and the software framework used for data storage, statistical analysis and result presentation.

Berthold Traub is a system specialist in the group Scientific Services NFI at the Swiss Federal Institute of Snow and Landscape Research WSL. He did a diploma in forestry at the University of Freiburg i. Br., where he also completed a PhD. He began his career as a researcher working in the Swiss NFI program at WSL with a focus on statistical inventory methods, international reporting and the analysis of inventory data. While working in the private sector, he gained further experience in managing large data analysis applications and software validation in a regulated environment. In his current role, he is responsible for managing and maintaining the integrated data-analysis applications of the Swiss NFI, as well as for coordinating regional forest inventories in Switzerland. His research focus is on data quality, particularly on the reproducibility of data collected from field samples.
Christoph Fischer is a forestry scientist. His background is in forestry and forest ecology, as well as tropical and international forestry. He received his doctorate from Georg-August-Universität Göttingen, Germany, where he gained in-depth experience in techniques for conducting forest inventories and in remote sensing. He also planned, led and evaluated the first, sample-based forest inventory of Burkina Faso. Since 2011, he has carried out research for the Swiss National Forest Inventory (NFI) on resource availability and forest recreation. He actively participates in international projects on the harmonisation of wood resource assessments using NFI data. He is author and co-author of various scientific articles and book chapters. Since 2018, he has been head of the Swiss NFI's module on protective forests.
Inhaltsverzeichnis (24 Kapitel)

Swiss NFI at a Glance

Seiten 3-35

Sampling Design and Estimation Procedures

Seiten 39-92

Remote Sensing Data Sources

Seiten 95-100

Remote Sensing Data Management

Seiten 101-104

Stereo GIS Application for Aerial-Image Interpretation

Seiten 105-110
Dieses Buch kaufen
eBook 96,29 €

Preis für Deutschland (Brutto)

ISBN 978-3-030-19293-8
Versehen mit digitalem Wasserzeichen, DRM-frei
Erhältliche Formate: PDF, EPUB
eBooks sind auf allen Endgeräten nutzbar
Sofortiger eBook Download nach Kauf

Hardcover 171,19 €

Preis für Deutschland (Brutto)

ISBN 978-3-030-19292-1
Kostenfreier Versand für Individualkunden weltweit
Institutionelle Kunden wenden sich bitte an ihren Kundenbetreuer
Gewöhnlich versandfertig in 3-5 Werktagen, sofern auf Lager

Softcover 123,04 €

Preis für Deutschland (Brutto)

ISBN 978-3-030-19295-2
Kostenfreier Versand für Individualkunden weltweit
Institutionelle Kunden wenden sich bitte an ihren Kundenbetreuer
Gewöhnlich versandfertig in 3-5 Werktagen, sofern auf Lager
Services zu diesem Buch
Wir empfehlen
Bibliografische Information
Buchtitel

Swiss National Forest Inventory – Methods and Models of the Fourth Assessment

Herausgeber

Christoph Fischer
Berthold Traub

Titel der Buchreihe

Buchreihen Band

35

Copyright

2019

Verlag

Springer International Publishing

Copyright Inhaber

Springer Nature Switzerland AG

eBook ISBN

978-3-030-19293-8

DOI

10.1007/978-3-030-19293-8

Hardcover ISBN

978-3-030-19292-1

Softcover ISBN

978-3-030-19295-2

Buchreihen ISSN

1568-1319

Auflage

1

Seitenzahl

XV, 431

Anzahl der Bilder

45 schwarz-weiß Abbildungen, 71 Abbildungen in Farbe

Themen