Management for Professionals
Vorschau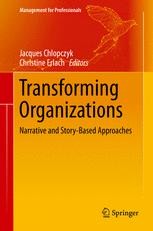 Transforming Organizations
Narrative and Story-Based Approaches
Herausgeber: Chlopczyk, Jacques, Erlach, Christine (Eds.)
Vorschau
Provides an effective framework for designing future-shaping strategies using a narrative approach in organizations
Includes numerous case studies and examples of practice from storytelling experts across the world
Presents a comprehensive overview of narratives to understand its roots, strengths and opportunities
Weitere Vorteile
Dieses Buch kaufen
eBook 67,40 €

Preis für Deutschland (Brutto)

ISBN 978-3-030-17851-2
Versehen mit digitalem Wasserzeichen, DRM-frei
Erhältliche Formate: EPUB, PDF
eBooks sind auf allen Endgeräten nutzbar
Sofortiger eBook Download nach Kauf

Hardcover 85,59 €

Preis für Deutschland (Brutto)

ISBN 978-3-030-17850-5
Kostenfreier Versand für Individualkunden weltweit
Institutionelle Kunden wenden sich bitte an ihren Kundenbetreuer
Gewöhnlich versandfertig in 3-5 Werktagen, sofern auf Lager
Achieving true change and innovation depends on our ability to re-imagine and re-author the futures we want our organizations to have – and to open new perspectives and new ways of thinking, being and doing in the process. Narrative approaches and storytelling are powerful tools that can help us create a new future for branding and marketing, change, leadership, organizational learning and development.

Gathering contributions by scholars and practitioners from various disciplines, this book provides a unique overview of an emerging field of practice in organizations and communities. Rooted in a narrative conceptual framework, the respective papers describe a broad range of trans-disciplinary applications, tools and methods for effectively working with stories.




Jacques Chlopczyk is an organizational psychologist, systemic consultant, facilitator and author. He works internationally with profit and not–for–profit clients to ignite, facilitate and sustain change in their organizations and teams. He lectures on systemic consulting and change management at the Centre for Systemic Consulting and Research, The University of Trier (Germany) and other institutions. He is initiator and catalyst of the Beyond Storytelling Network and its conference, and is the editor of the book "Beyond Storytelling – Narrative Ansätze und die Arbeit mit Geschichten in Organisationen" (Springer, 2017) .
Christine Erlach studied psychology and systemic therapy. In her past experiences as a lecturer and researcher at the University of Munich (Germany) her studies dealt with power of narrative methods for finding and transporting tacit knowledge and cultural values and beliefs. For the last 20 years she has been using narrative methods to make implicit, experiential knowledge and beliefs tangible, and she advises organizations in knowledge transfer processes. She is founder of NARRATA Consult, a network that is specializing in narrative knowledge- and change management. She has authored numerous publications on narrative methods in organizations.

Inhaltsverzeichnis (18 Kapitel)

The Narrative Approach to Transforming Organizations

Seiten 1-8

The Sun Is Still in My Eyes. Reflecting on the Constructiveness of Life

Seiten 9-19

Change and Transformation in the Storytelling Organization

Seiten 21-34

Six Perspectives on the Role of Story in Creating Flourishing Organisational Futures

Seiten 35-54

Transforming Organisations Through the Re-authoring Lens and Practices

Seiten 55-73
Dieses Buch kaufen
eBook 67,40 €

Preis für Deutschland (Brutto)

ISBN 978-3-030-17851-2
Versehen mit digitalem Wasserzeichen, DRM-frei
Erhältliche Formate: EPUB, PDF
eBooks sind auf allen Endgeräten nutzbar
Sofortiger eBook Download nach Kauf

Hardcover 85,59 €

Preis für Deutschland (Brutto)

ISBN 978-3-030-17850-5
Kostenfreier Versand für Individualkunden weltweit
Institutionelle Kunden wenden sich bitte an ihren Kundenbetreuer
Gewöhnlich versandfertig in 3-5 Werktagen, sofern auf Lager
Services zu diesem Buch
Wir empfehlen
Bibliografische Information
Buchtitel

Transforming Organizations

Buchuntertitel

Narrative and Story-Based Approaches

Herausgeber

Jacques Chlopczyk
Christine Erlach

Titel der Buchreihe

Copyright

2019

Verlag

Springer International Publishing

Copyright Inhaber

Springer Nature Switzerland AG

eBook ISBN

978-3-030-17851-2

DOI

10.1007/978-3-030-17851-2

Hardcover ISBN

978-3-030-17850-5

Buchreihen ISSN

2192-8096

Auflage

1

Seitenzahl

VIII, 301

Anzahl der Bilder

14 schwarz-weiß Abbildungen, 31 Abbildungen in Farbe

Themen