FGF Studies in Small Business and Entrepreneurship
Vorschau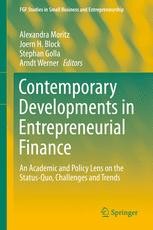 Contemporary Developments in Entrepreneurial Finance
An Academic and Policy Lens on the Status-Quo, Challenges and Trends
Herausgeber: Moritz, A., Block, J.H., Golla, S., Werner, A. (Eds.)
Vorschau
Compiles a multifaceted picture of the current and future entrepreneurial finance landscape
Features research on different modes of startup and SME financing such as (corporate) venture capital and initial coin offerings (ICOs)
Includes qualitative, quantitative and mixed-methods based research and policy perspectives on entrepreneurial financing
Weitere Vorteile
Dieses Buch kaufen
eBook 74,89 €

Preis für Deutschland (Brutto)

ISBN 978-3-030-17612-9
Versehen mit digitalem Wasserzeichen, DRM-frei
Erhältliche Formate: PDF, EPUB
eBooks sind auf allen Endgeräten nutzbar
Sofortiger eBook Download nach Kauf

Hardcover 139,09 €

Preis für Deutschland (Brutto)

ISBN 978-3-030-17611-2
Kostenfreier Versand für Individualkunden weltweit
Institutionelle Kunden wenden sich bitte an ihren Kundenbetreuer
Gewöhnlich versandfertig in 3-5 Werktagen, sofern auf Lager

Softcover 96,29 €

Preis für Deutschland (Brutto)

ISBN 978-3-030-17614-3
Kostenfreier Versand für Individualkunden weltweit
Institutionelle Kunden wenden sich bitte an ihren Kundenbetreuer
Gewöhnlich versandfertig in 3-5 Werktagen, sofern auf Lager
More extensive regulations, new technologies, and new means of communication have significantly changed the financing landscape for startups and small to medium-sized companies (SMEs). This volume provides a contemporary research-based overview of the latest trends in entrepreneurial finance and outlines expected future developments. Starting with the status quo in market regulations and the financing structure of SMEs, it addresses a broad range of new financing alternatives for innovative startups (e.g. business angel financing, venture capital and corporate venture capital), as well as recent social phenomena (e.g. crowdfunding and initial coin offerings (ICOs)). Incorporating qualitative, quantitative and mixed analytical methods, the book contributes to a better understanding of the financing world by reflecting both the researcher's and the practitioner's perspective.


Alexandra Moritz is a post-doctoral researcher at the Chair of Management at University of Trier (Germany), where she finished her PhD on Financing of Small and Medium-sized Firms in Europe. Her work has been published in business and economics journals such as Small Business Economics, Venture Capital: An International Journal and Qualitative Research in Financial Markets.
Joern Block is a Professor of Entrepreneurship and Innovation at Erasmus University Rotterdam (The Netherlands) and University of Trier (Germany). His research has been published in journals such as Administrative Science Quarterly, Journal of Business Venturing and Research Policy. Prof. Block is also the Editor-in-Chief of the journal 'Management Review Quarterly' (Springer).
Stephan Golla is Professor of Management and Entrepreneurship at Fulda University of Applied Sciences (Germany) and Adjunct Professor at University of the Sunshine Coast (USC, Australia). Prof. Golla had previously worked in management positions within VC funded startups and was responsible for the IP commercialization at Western Sydney University (Australia). He publishes in the area of students' occupational choices and founder identities.
Arndt Werner is Professor and chair for SME Management and Entrepreneurship at the University of Siegen (Germany). Prof. Werner has published in various entrepreneurship journals including ET&P, Small Business Economics and Journal of Small Business Management.

Inhaltsverzeichnis (12 Kapitel)

European SME Financing: An Empirical Taxonomy

Seiten 3-30

The European Capital Markets Union and its Impact on Future SME Financing

Seiten 31-58

Innovation and Investment Finance in Comparison

Seiten 59-79

Trends in Financing Programmes for the Development of Micro, Small and Medium Enterprises (MSMEs) in Nigeria: A Qualitative Meta-synthesis

Seiten 81-101

Research on Venture Capitalists' and Business Angels' Investment Criteria: A Systematic Literature Review

Seiten 105-136
Dieses Buch kaufen
eBook 74,89 €

Preis für Deutschland (Brutto)

ISBN 978-3-030-17612-9
Versehen mit digitalem Wasserzeichen, DRM-frei
Erhältliche Formate: PDF, EPUB
eBooks sind auf allen Endgeräten nutzbar
Sofortiger eBook Download nach Kauf

Hardcover 139,09 €

Preis für Deutschland (Brutto)

ISBN 978-3-030-17611-2
Kostenfreier Versand für Individualkunden weltweit
Institutionelle Kunden wenden sich bitte an ihren Kundenbetreuer
Gewöhnlich versandfertig in 3-5 Werktagen, sofern auf Lager

Softcover 96,29 €

Preis für Deutschland (Brutto)

ISBN 978-3-030-17614-3
Kostenfreier Versand für Individualkunden weltweit
Institutionelle Kunden wenden sich bitte an ihren Kundenbetreuer
Gewöhnlich versandfertig in 3-5 Werktagen, sofern auf Lager
Services zu diesem Buch
Wir empfehlen
Bibliografische Information
Buchtitel

Contemporary Developments in Entrepreneurial Finance

Buchuntertitel

An Academic and Policy Lens on the Status-Quo, Challenges and Trends

Herausgeber

Alexandra Moritz
Joern H. Block
Stephan Golla
Arndt Werner

Titel der Buchreihe

Copyright

2020

Verlag

Springer International Publishing

Copyright Inhaber

Springer Nature Switzerland AG

eBook ISBN

978-3-030-17612-9

DOI

10.1007/978-3-030-17612-9

Hardcover ISBN

978-3-030-17611-2

Softcover ISBN

978-3-030-17614-3

Buchreihen ISSN

2364-6918

Auflage

1

Seitenzahl

XIV, 333

Anzahl der Bilder

27 schwarz-weiß Abbildungen, 38 Abbildungen in Farbe

Themen