Essential Clinical Social Work Series
Vorschau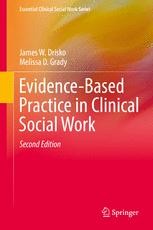 Evidence-Based Practice in Clinical Social Work
Autoren: Drisko, James W., Grady, Melissa D
Vorschau
Expands on previous research used to develop practice guidelines
Explores practical and ethical challenges of EBP
Provides updated case studies to illustrate applications and examine relevant contemporary social issues
Weitere Vorteile
Dieses Buch kaufen
eBook 53,49 €

Preis für Deutschland (Brutto)

ISBN 978-3-030-15224-6
Versehen mit digitalem Wasserzeichen, DRM-frei
Erhältliche Formate: EPUB, PDF
eBooks sind auf allen Endgeräten nutzbar
Sofortiger eBook Download nach Kauf

Hardcover 96,29 €

Preis für Deutschland (Brutto)

ISBN 978-3-030-15223-9
Kostenfreier Versand für Individualkunden weltweit
Institutionelle Kunden wenden sich bitte an ihren Kundenbetreuer
Gewöhnlich versandfertig in 3-5 Werktagen, sofern auf Lager

Softcover 69,54 €

Preis für Deutschland (Brutto)

ISBN 978-3-030-15226-0
Kostenfreier Versand für Individualkunden weltweit
Institutionelle Kunden wenden sich bitte an ihren Kundenbetreuer
Gewöhnlich versandfertig in 3-5 Werktagen, sofern auf Lager
The second edition of Evidence-Based Practice in Clinical Social Work continues to bridge the gap between social work research and clinical practice, presenting EBP as both an effective approach to social work and a broader social movement. Building on the models and insights outlined in the first edition, this new edition provides updated research and additional case studies addressing relevant issues such as trauma treatment and opioid dependence.

Drawing on their multidisciplinary experience as practitioners, researchers, and educators, the authors guide readers through the steps of the EBP decision-making process in assessment, treatment planning, and evaluation. The book places special emphasis on balancing clinical expertise, research results, and client needs, and analyzes both the strengths and limitations of the EBP model in order to give readers a more complete idea of how the method will shape their own practice.

In addition, this practice-building reference:


Introduces core principles of EBP and details its processes in social work

Features guidelines for engaging clients in EBP and transmitting research findings

Offers a range of case examples demonstrating EBP with diverse clients

Addresses education and supervision issues and related controversies

Includes an expanded glossary and valuable resources for use in evidence-based practice


Evidence-Based Practice in Clinical Social Work is a practical resource for clinical social work professionals and educators that broadens the field and expands the healing possibilities for the profession.

James Drisko is Professor at Smith College School for Social Work in Northampton, Massachusetts. His recent work focuses on evidence-based practice, the common factors model, clinical work with children and families including reactive attachment disorder and its treatment, psychotherapy evaluation and qualitative research methods. Drisko received his bachelor's degree in psychology from Amherst College, his M.S.W. from Smith College School for Social Work and his Ph.D. from Boston College Graduate School of Social Work. Drisko was elected to the National Academies of Practice in Clinical Social Work in 2008 and was named an as inaugural Fellow of the Society for Social Work and Research in 2014.
Melissa Grady is Associate Professor at the National Catholic School of Social Service in Washington, DC. Dr. Melissa D. Grady received her M.S.W. and Ph.D. from Smith College School of Social Work. Her clinical experience includes both work in the public mental health sector and private sector. Her clinical experience includes clients who have experienced trauma, depression, anxiety, anger management as well as other mental health issues. In addition, Dr. Grady has worked with parents who are separating and divorcing and struggle with co-parenting. In addition, she has practiced, writes about and conducts research and trainings on sex offenders and evidence-based treatment practices. She is formerly a faculty member at the University of North Carolina at Chapel Hill's School of Social Work and is now currently on the faculty of Catholic University's National School of Social Service where she teaches in the areas of mental health, clinical practice, clinical theory and research methods.
Inhaltsverzeichnis (21 Kapitel)

Introduction and Overview

Seiten 3-21

Three Perspectives on Evidence-Based Practice

Seiten 23-37

The Steps of Evidence-Based Practice in Clinical Practice: An Overview

Seiten 39-68

Step 1 of EBP: Assessment in Clinical Social Work and Identifying Practice Information Needs

Seiten 69-93

Step 2 of EBP: Locating Practice Research

Seiten 95-106
Dieses Buch kaufen
eBook 53,49 €

Preis für Deutschland (Brutto)

ISBN 978-3-030-15224-6
Versehen mit digitalem Wasserzeichen, DRM-frei
Erhältliche Formate: EPUB, PDF
eBooks sind auf allen Endgeräten nutzbar
Sofortiger eBook Download nach Kauf

Hardcover 96,29 €

Preis für Deutschland (Brutto)

ISBN 978-3-030-15223-9
Kostenfreier Versand für Individualkunden weltweit
Institutionelle Kunden wenden sich bitte an ihren Kundenbetreuer
Gewöhnlich versandfertig in 3-5 Werktagen, sofern auf Lager

Softcover 69,54 €

Preis für Deutschland (Brutto)

ISBN 978-3-030-15226-0
Kostenfreier Versand für Individualkunden weltweit
Institutionelle Kunden wenden sich bitte an ihren Kundenbetreuer
Gewöhnlich versandfertig in 3-5 Werktagen, sofern auf Lager
Services zu diesem Buch
Bibliografische Information
Buchtitel

Evidence-Based Practice in Clinical Social Work

Autoren

James W. Drisko
Melissa D Grady

Titel der Buchreihe

Copyright

2019

Verlag

Springer International Publishing

Copyright Inhaber

Springer Nature Switzerland AG

eBook ISBN

978-3-030-15224-6

DOI

10.1007/978-3-030-15224-6

Hardcover ISBN

978-3-030-15223-9

Softcover ISBN

978-3-030-15226-0

Buchreihen ISSN

2520-162X

Auflage

2

Seitenzahl

XXVII, 348

Anzahl der Bilder

3 schwarz-weiß Abbildungen, 1 Abbildungen in Farbe

Themen