EAI/Springer Innovations in Communication and Computing
Vorschau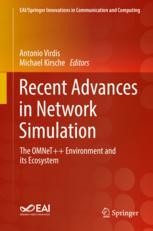 Recent Advances in Network Simulation
The OMNeT++ Environment and its Ecosystem
Herausgeber: Virdis, Antonio, Kirsche, Michael (Eds.)
Vorschau
Includes an introduction to the OMNeT++ simulation framework and its main features
Gives a comprehensive overview of ongoing research topics that exploits OMNeT++ as the simulation environment
Provides examples and uses cases focusing on the practical aspects of simulation
Weitere Vorteile
Dieses Buch kaufen
eBook 117,69 €

Preis für Deutschland (Brutto)

ISBN 978-3-030-12842-5
Versehen mit digitalem Wasserzeichen, DRM-frei
Erhältliche Formate: PDF, EPUB
eBooks sind auf allen Endgeräten nutzbar
Sofortiger eBook Download nach Kauf

Hardcover 160,49 €

Preis für Deutschland (Brutto)

ISBN 978-3-030-12841-8
Kostenfreier Versand für Individualkunden weltweit
Institutionelle Kunden wenden sich bitte an ihren Kundenbetreuer
Gewöhnlich versandfertig in 3-5 Werktagen, sofern auf Lager

Softcover 117,69 €

Preis für Deutschland (Brutto)

ISBN 978-3-030-12844-9
Kostenfreier Versand für Individualkunden weltweit
Institutionelle Kunden wenden sich bitte an ihren Kundenbetreuer
Gewöhnlich versandfertig in 3-5 Werktagen, sofern auf Lager
This book provides a comprehensive introduction to the OMNeT++ simulation environment and an overview of its ecosystem of ever-growing frameworks, which provide simulation models for diverse communication systems, protocols, and standards.

The book covers the most recent advances of the three key points in the OMNeT++ environment:
(1) The latest features that are being added to OMNeT++ itself, including improvements in the visualization options, in data processing, etc.

(2) A comprehensive description of the current state of development and the work in progress of the main simulation frameworks, covering several aspects of communication such as vehicular, cellular, and sensor networks.

(3) The latest advances and novel developments coming from a large research community.

The presentation is guided through use cases and examples, always keeping in mind the practical and research purposes of the simulation process.

Includes an introduction to the OMNeT++ simulation framework and its main features;

Gives a comprehensive overview of ongoing research topics that exploits OMNeT++ as the simulation environment;

Provides examples and uses cases focusing on the practical aspects of simulation.





Antonio Virdis is an Assistant Professor at the University of Pisa, Italy, where he obtained his MSc degree in Computer System Engineering in 2011, and his PhD in Information Engineering in 2015. His research interests include Quality of Service (QoS), scheduling and resource allocation in wireless networks, network softwarization, network simulation, and performance evaluation. He has been and is currently involved in national, EU-funded, and industry-funded research projects. He coauthored seven patents and more than 40 peer-reviewed papers in the field of cellular network modeling and algorithms. He has served as a member of the technical program committee of various international conferences, he served as TPC co-chair of the International OMNeT++ Community Summit in 2016 and 2017, and as a local organizer in 2018.

Michael Kirsche is an external PhD student at the Brandenburg University of Technology Cottbus-Senftenberg, Germany. He obtained his MSc degree in Information and Media Technology in 2009, for which he received the 2009 Alumnus Award of the federal state of Brandenburg, Germany. He worked as a project manager for 2 years before pursuing his PhD in Computer Science. His research focus lies on the integration of sensor networks into the Internet and the simulation and modeling of wired and wireless sensor networks and Internet of Things (IoT) protocols. He is currently working in the industry in the areas of fieldbus protocols and deterministic railway communication networks. He coauthored eighteen peer-reviewed papers and journal articles in the field of communication networks and protocols, collaborative computing, and network simulation. He is serving as a member of the International OMNeT++ Community Summit organizing committee since the event's reinvention in 2014.
Inhaltsverzeichnis (15 Kapitel)

A Practical Introduction to the OMNeT++ Simulation Framework

Seiten 3-51

INET Framework

Seiten 55-106

INETMANET Framework

Seiten 107-138

Cellular-Networks Simulation Using SimuLTE

Seiten 183-214
Dieses Buch kaufen
eBook 117,69 €

Preis für Deutschland (Brutto)

ISBN 978-3-030-12842-5
Versehen mit digitalem Wasserzeichen, DRM-frei
Erhältliche Formate: PDF, EPUB
eBooks sind auf allen Endgeräten nutzbar
Sofortiger eBook Download nach Kauf

Hardcover 160,49 €

Preis für Deutschland (Brutto)

ISBN 978-3-030-12841-8
Kostenfreier Versand für Individualkunden weltweit
Institutionelle Kunden wenden sich bitte an ihren Kundenbetreuer
Gewöhnlich versandfertig in 3-5 Werktagen, sofern auf Lager

Softcover 117,69 €

Preis für Deutschland (Brutto)

ISBN 978-3-030-12844-9
Kostenfreier Versand für Individualkunden weltweit
Institutionelle Kunden wenden sich bitte an ihren Kundenbetreuer
Gewöhnlich versandfertig in 3-5 Werktagen, sofern auf Lager
Services zu diesem Buch
Wir empfehlen
Bibliografische Information
Buchtitel

Recent Advances in Network Simulation

Buchuntertitel

The OMNeT++ Environment and its Ecosystem

Herausgeber

Antonio Virdis
Michael Kirsche

Titel der Buchreihe

Copyright

2019

Verlag

Springer International Publishing

Copyright Inhaber

Springer Nature Switzerland AG

eBook ISBN

978-3-030-12842-5

DOI

10.1007/978-3-030-12842-5

Hardcover ISBN

978-3-030-12841-8

Softcover ISBN

978-3-030-12844-9

Buchreihen ISSN

2522-8595

Auflage

1

Seitenzahl

XXXIV, 472

Anzahl der Bilder

27 schwarz-weiß Abbildungen, 114 Abbildungen in Farbe

Themen