Learning Materials in Biosciences
Vorschau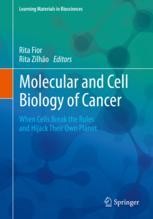 Molecular and Cell Biology of Cancer
When Cells Break the Rules and Hijack Their Own Planet
Herausgeber: Fior, Rita, Zilhão, Zilhão (Eds.)
Vorschau
An updated perspective on cancer with a Development and Evolutionary perspective
Hallmarks of Cancer structured in 2 main arms: tumor-autonomous vs non-autonomous traits
Easy to read language, containing appealing illustrations, respecting the scientific accuracy
Weitere Vorteile
Dieses Buch kaufen
eBook 64,19 €

Preis für Deutschland (Brutto)

ISBN 978-3-030-11812-9
Versehen mit digitalem Wasserzeichen, DRM-frei
Erhältliche Formate: PDF, EPUB
eBooks sind auf allen Endgeräten nutzbar
Sofortiger eBook Download nach Kauf

Softcover 80,24 €

Preis für Deutschland (Brutto)

ISBN 978-3-030-11811-2
Kostenfreier Versand für Individualkunden weltweit
Institutionelle Kunden wenden sich bitte an ihren Kundenbetreuer
Gewöhnlich versandfertig in 3-5 Werktagen, sofern auf Lager
This textbook takes you on a journey to the basic concepts of cancer biology. It combines developmental, evolutionary and cell biology perspectives, to then wrap-up with an integrated clinical approach.

The book starts with an introductory chapter, looking at cancer in a nut shell. The subsequent chapters are detailed and the idea of cancer as a mass of somatic cells undergoing a micro-evolutionary Darwinian process is explored. Further, the main Hanahan and Weinberg "Hallmarks of Cancer" are revisited. In most chapters, the fundamental experiments that led to key concepts, connecting basic biology and biomedicine are highlighted. In the book's closing section all of these concepts are integrated in clinical studies, where molecular diagnosis as well as the various classical and modern therapeutic strategies are addressed.

The book is written in an easy-to-read language, like a one-on-one conversation between the writer and the reader, without compromising the scientific accuracy. Therefore, this book is suited not only for advanced undergraduates and master students but also for patients or curious lay people looking for a further understanding of this shattering disease


Professor Dr. Rita Fior teaches Molecular and Cell Biology of Cancer at the Faculty of Sciences in the University of Lisbon, Portugal. She is also a Principal Investigator at the Champalimaud Foundation, a renowned state-of-the-art center for Science. She has worked with Julian Lewis (Emeritus Scientist and Fellow of the Royal Society, CRUK).
Professor Dr. Rita Zilhão has been teaching for more than 20 years at the Faculty of Sciences in the University of Lisbon, Portugal. At this moment she is responsible for 3 courses: Genetic and Molecular Biology, Basics of Molecular Biology and Molecular and Cell Biology of Cancer. She is the coordinator of the Molecular and Genetic Biology Bachelor Program.
Inhaltsverzeichnis (10 Kapitel)

Cancer - when Cells Break the Rules and Hijack Their Own Planet

Seiten 1-20

Cancer as an Evolutionary Process

Seiten 21-30

Cell Signaling in Cancer

Seiten 31-49

The Cell Cycle, Cytoskeleton and Cancer

Seiten 51-74

Genomic Instability: DNA Repair and Cancer

Seiten 75-96
Dieses Buch kaufen
eBook 64,19 €

Preis für Deutschland (Brutto)

ISBN 978-3-030-11812-9
Versehen mit digitalem Wasserzeichen, DRM-frei
Erhältliche Formate: PDF, EPUB
eBooks sind auf allen Endgeräten nutzbar
Sofortiger eBook Download nach Kauf

Softcover 80,24 €

Preis für Deutschland (Brutto)

ISBN 978-3-030-11811-2
Kostenfreier Versand für Individualkunden weltweit
Institutionelle Kunden wenden sich bitte an ihren Kundenbetreuer
Gewöhnlich versandfertig in 3-5 Werktagen, sofern auf Lager
Services zu diesem Buch
Bibliografische Information
Buchtitel

Molecular and Cell Biology of Cancer

Buchuntertitel

When Cells Break the Rules and Hijack Their Own Planet

Herausgeber

Titel der Buchreihe

Copyright

2019

Verlag

Springer International Publishing

Copyright Inhaber

Springer Nature Switzerland AG

eBook ISBN

978-3-030-11812-9

DOI

10.1007/978-3-030-11812-9

Softcover ISBN

978-3-030-11811-2

Buchreihen ISSN

2509-6125

Auflage

1

Seitenzahl

IX, 216

Anzahl der Bilder

71 Abbildungen in Farbe

Themen