Coral Reefs of the World
Vorschau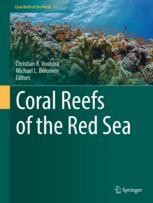 Coral Reefs of the Red Sea
Herausgeber: Voolstra, Christian R., Berumen, Michael L. (Eds.)
Vorschau
Up-to-date reference work for Red Sea coral reefs
Compact guide on chemical, physical, biological baseline data
Integrates ecological and molecular work, highlights pressing future research
Provides guidelines to conservation efforts
Weitere Vorteile
Dieses Buch kaufen
eBook 117,69 €

Preis für Deutschland (Brutto)

ISBN 978-3-030-05802-9
Versehen mit digitalem Wasserzeichen, DRM-frei
Erhältliche Formate: EPUB, PDF
eBooks sind auf allen Endgeräten nutzbar
Sofortiger eBook Download nach Kauf

Hardcover 160,49 €

Preis für Deutschland (Brutto)

ISBN 978-3-030-05800-5
Kostenfreier Versand für Individualkunden weltweit
Institutionelle Kunden wenden sich bitte an ihren Kundenbetreuer
Gewöhnlich versandfertig in 3-5 Werktagen, sofern auf Lager
This volume is a complete review and reference work for scientists, engineers, and students concerned with coral reefs in the Red Sea. It provides an up-to-date review on the geology, ecology, and physiology of coral reef ecosystems in the Red Sea, including data from most recent molecular studies. The Red Sea harbours a set of unique ecological characteristics, such as high temperature, high alkalinity, and high salinity, in a quasi-isolated environment. This makes it a perfect laboratory to study and understand adaptation in regard to the impact of climate change on marine ecosystems. This book can be used as a general reference, guide, or textbook.

Dr. Voolstra's research interests are in Evolutionary Genomics and Systems Biology of coral reefs. Coral reefs represent one of the most diverse ecosystems in the world. They are, however, extremely fragile and endangered due to human imposed exploitation, pollution, and global warming. An Evolutionary Genomics and Systems Biology approach can add to our understanding of reef ecology and conservation efforts. Dr Voolstra intends to focus on the following research topics: The role of adaptive evolution and coral-specific genes in molecular mechanisms of bleaching and stress; the molecular machinery of mutualism between corals and algae; the role of prokaryotes in these processes. Furthermore, Dr. Voolstra is interested in Biomineralization, Cancer, Ageing, Population Genetics/Genomics, and Genome-wide association studies (GWAS). Dr. Voolstra is an evolutionary biologist by heart that is interested in the big picture by applying whatever techniques are available or by the development of new methods in order to advance research.

Michael L. Berumen: Associate Professor, Marine Science. Biological and Environmental Science and Engineering Division. Center membership: Red Sea Research Center. Research Interests: Larval connectivity and dispersal of reef fishes; movement ecology of reef organisms; biodiversity and evolutionary biology of Red Sea fauna.
Inhaltsverzeichnis (8 Kapitel)

The Red Sea: Environmental Gradients Shape a Natural Laboratory in a Nascent Ocean

Seiten 1-10

Environmental Setting for Reef Building in the Red Sea

Seiten 11-32

Ecophysiology of Reef-Building Corals in the Red Sea

Seiten 33-52

Microbial Communities of Red Sea Coral Reefs

Seiten 53-68

Symbiodiniaceae Diversity in Red Sea Coral Reefs & Coral Bleaching

Seiten 69-89
Dieses Buch kaufen
eBook 117,69 €

Preis für Deutschland (Brutto)

ISBN 978-3-030-05802-9
Versehen mit digitalem Wasserzeichen, DRM-frei
Erhältliche Formate: EPUB, PDF
eBooks sind auf allen Endgeräten nutzbar
Sofortiger eBook Download nach Kauf

Hardcover 160,49 €

Preis für Deutschland (Brutto)

ISBN 978-3-030-05800-5
Kostenfreier Versand für Individualkunden weltweit
Institutionelle Kunden wenden sich bitte an ihren Kundenbetreuer
Gewöhnlich versandfertig in 3-5 Werktagen, sofern auf Lager
Services zu diesem Buch
Wir empfehlen
Bibliografische Information
Buchtitel

Coral Reefs of the Red Sea

Herausgeber

Christian R. Voolstra
Michael L. Berumen

Titel der Buchreihe

Buchreihen Band

11

Copyright

2019

Verlag

Springer International Publishing

Copyright Inhaber

Springer Nature Switzerland AG

eBook ISBN

978-3-030-05802-9

DOI

10.1007/978-3-030-05802-9

Hardcover ISBN

978-3-030-05800-5

Buchreihen ISSN

2213-719X

Auflage

1

Seitenzahl

IX, 179

Anzahl der Bilder

10 schwarz-weiß Abbildungen, 29 Abbildungen in Farbe

Themen