Studies of Organized Crime
Vorschau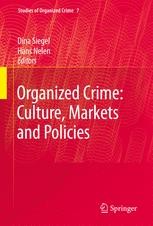 Organized Crime: Culture, Markets and Policies
Herausgeber: SIEGEL, DINA, Nelen, Hans (Eds.)
Vorschau
Examines organized crime in many different trades, from diamond dealing, to drug smuggling, to car theft
Combines historical data with recent research to analyze current trends in organized crime
Research examines and compares organized crime circles throughout the world
Weitere Vorteile
Dieses Buch kaufen
eBook 37,44 €

Preis für Deutschland (Brutto)

ISBN 978-0-387-74733-0
Versehen mit digitalem Wasserzeichen, DRM-frei
Erhältliche Formate: PDF
eBooks sind auf allen Endgeräten nutzbar
Sofortiger eBook Download nach Kauf

Hardcover 80,24 €

Preis für Deutschland (Brutto)

ISBN 978-0-387-74732-3
Kostenfreier Versand für Individualkunden weltweit
Institutionelle Kunden wenden sich bitte an ihren Kundenbetreuer
Gewöhnlich versandfertig in 3-5 Werktagen, sofern auf Lager

Softcover 48,14 €

Preis für Deutschland (Brutto)

ISBN 978-0-387-09710-7
Kostenfreier Versand für Individualkunden weltweit
Institutionelle Kunden wenden sich bitte an ihren Kundenbetreuer
Gewöhnlich versandfertig in 3-5 Werktagen, sofern auf Lager
Complex interactions of economic, technological, political, and cultural factors have fed the rise of criminal networks worldwide. At the same time, global illegal activities depend on a world of social realities to function. Organized Crime moves beyond traditional concepts of "evil forces" corrupting their host societies, instead analyzing local, national, and international manifestations of organized crime in the situational contexts that aid in its development.

The contributors provide up-to-date understanding of various aspects of organized crime, in both classic areas of research (drugs, sex trafficking, labor racketeering) and emerging areas of interest (diamond smuggling, money laundering, eco-crime), in locales as varied as Italy, Quebec, the Sinai, Bulgaria, and the world's tropical rain forests. Topics are explored from a variety of perspectives, including sociology, criminology, political science, and anthropology, giving this book empirical breadth and depth rarely seen in the literature.

A sampling of the topics:

Symbolic and economic meanings of crime to cultures.

The symbiotic relationships between legitimate and criminal activities.

Ethical dilemmas of legitimate businesses with criminal clients.

Marketing, problem-solving, recruitment: organizational models of criminal enterprises.

Innovative law enforcement/administrative strategies for containing and preventing crime in the U.S. and across Europe.

Scholars and researchers of organized crime as well as advanced students of criminology will welcome Organized Crime for coverage that is wide-ranging, comparative, and specific enough to match their interests.

Dina Siegel is an Assistant Professor at the Department of Criminology and Criminal Law, Vrije Universiteit Amsterdam. She studied sociology and social anthropology at Tel Aviv University in Israel and obtained her PhD in cultural anthropology at the Vrije Universiteit of Amsterdam, the Netherlands. She has studied and published several articles on post-Soviet organized crime, terrorism, human trafficking, criminal activities in diamond sector, and on drug policies in the Netherlands. In 2003 she edited (together with Van de Bunt and Zaitch) Global Organized Crime. Trends and Developments (Kluwer Academic Publishers, 2004). She conducted ethnographic research on Russian-speaking criminals in the Netherlands, Russian biznes in the Netherlands (2005, Meulenhoff).

Hans Nelen is a criminologist and has a law degree. Between 1986 and the beginning of 2001 he was employed as a senior researcher and research supervisor at the Research and Documentation Centre of the Ministry of Justice in the Netherlands (WODC), mainly investigating drug crime, fraud and corporate crim. Between 2001 and 2006 he was a senior lecturer and senior researcher at the Institute of Criminology of the Vrije Universiteit Amsterdam. Since January 1 2007 Nelen has been working as a Professor of Criminology at Maastricht University (UM). During the last decade Nelen published several books and articles on a variety of criminological subjects, i.e. corruption and fraud, dilemmas facing lawyers and notaries, the administrative approach to organized crime, the proceeds-of-crime approach, evaluation of legislation, and evaluation of law enforcement activities.
Inhaltsverzeichnis (15 Kapitel)

Reflections on the Sicilian Mafia: Peripheries and Their Impact on Centres

Seiten 7-13

The Decline of the Italian Mafia

Seiten 15-28

Hashish Smuggling by Bedouin in South Sinai

Seiten 29-37

Corruption as a Causal Factor in Human Trafficking

Seiten 41-55

New Players in an Old Game: The Sex Market in Italy

Seiten 57-69
Dieses Buch kaufen
eBook 37,44 €

Preis für Deutschland (Brutto)

ISBN 978-0-387-74733-0
Versehen mit digitalem Wasserzeichen, DRM-frei
Erhältliche Formate: PDF
eBooks sind auf allen Endgeräten nutzbar
Sofortiger eBook Download nach Kauf

Hardcover 80,24 €

Preis für Deutschland (Brutto)

ISBN 978-0-387-74732-3
Kostenfreier Versand für Individualkunden weltweit
Institutionelle Kunden wenden sich bitte an ihren Kundenbetreuer
Gewöhnlich versandfertig in 3-5 Werktagen, sofern auf Lager

Softcover 48,14 €

Preis für Deutschland (Brutto)

ISBN 978-0-387-09710-7
Kostenfreier Versand für Individualkunden weltweit
Institutionelle Kunden wenden sich bitte an ihren Kundenbetreuer
Gewöhnlich versandfertig in 3-5 Werktagen, sofern auf Lager
Services zu diesem Buch
Wir empfehlen
Bibliografische Information
Buchtitel

Organized Crime: Culture, Markets and Policies

Herausgeber

Titel der Buchreihe

Buchreihen Band

7

Copyright

2008

Verlag

Springer-Verlag New York

Copyright Inhaber

Springer-Verlag New York

eBook ISBN

978-0-387-74733-0

DOI

10.1007/978-0-387-74733-0

Hardcover ISBN

978-0-387-74732-3

Softcover ISBN

978-0-387-09710-7

Buchreihen ISSN

1571-5493

Auflage

1

Seitenzahl

VIII, 230

Themen